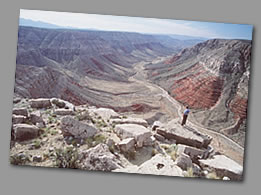 EnviroSystems Management, Inc. is an environmental consulting firm providing services related to the management of natural and cultural resources. Celebrating 10 years of service, our environmental consultants continue to assist clients with regulatory compliance issues associated with federal, state, and tribal regulations enacted to provide various levels of protection to these resources.
EnviroSystems is a woman-owned small business headquartered in Flagstaff, Arizona and operating throughout the desert and intermountain Southwest. We are GSA Advantage! contractors and DBE-certified. Our mission is to balance regulatory requirements with the objectives of our clients. We are committed to achieving this goal in the most cost-effective and time-efficient manner, while maintaining the highest of industry standards. Our project teams assemble experts in environmental regulatory compliance with vast experience in NEPA including hundreds of Environmental Impacts Statements, Environmental Assessments and Biological Assessments, threatened and endangered species surveys, archeology and anthropology specializing in prehistoric Native American cultures to historic settlers, wetlands and Section 404 US waters delineation, SWPPP preparation, Geographic Information Systems (GIS) and remote sensing, recreation planning, resources management and rehabilitation, land use planning, Phase I preparation, and terrestrial and aquatic biology. Our public relations division, ESMpr, specializes in public participation and community relations.
Nearly 75% of on-going projects are repeat business from satisfied clients.
Our clients include:
Utility Companies • Federal Agencies
Mining and Quarrying Industries • State and Local Governments
Oil and Natural Gas Industry • Native American Tribes
Telecommunications • Architectural and Engineering Firms
Land Development Companies • Transportation Departments

General Services Administration Contractor
Contract Number: GS-10F-0358M